Image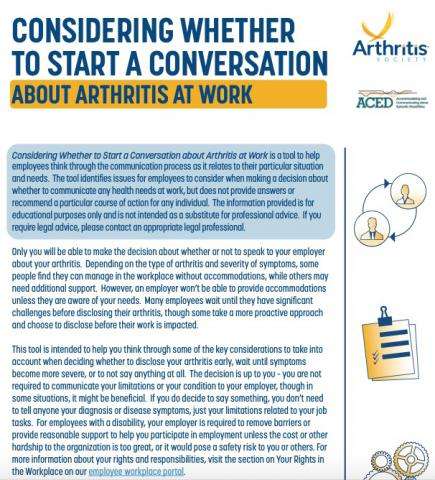 About this tool
A decision to share information at work about a chronic episodic condition such as arthritis may require careful thought. People with episodic disabilities are not required to disclose their condition or communicate their limitations and symptoms; however, they may find it necessary to share some information in order to get accommodations that help them remain productive. This resource, developed by the Arthritis Society in collaboration with the ACED partnership, helps employees think through some of the key considerations when deciding whether to disclose their needs.
Also see:
What's included in this tool
This tool takes users through a series of questions about their arthritis and its impact on their job, including questions about their arthritis symptoms, employment status, organization's current supports and culture, and expectations after a potential disclosure. An evaluation after each set of questions allows users to reflect on the pros and cons of disclosure and makes suggestions for possible next steps.
The information in this tool is available online and as a one-page, double-sided pdf that can be printed out for easy reading. 
Who should use this tool
Employees with arthritis thinking about the potential benefits or risks of disclosing their condition at work can use this tool to help make a decision.