Image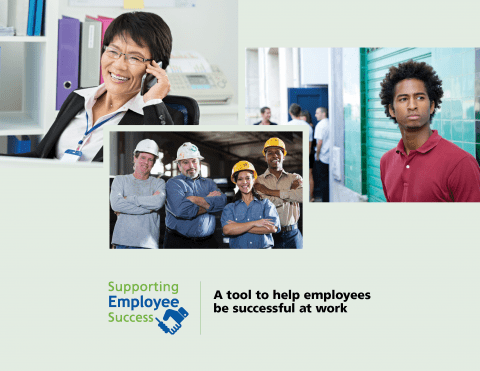 About this tool
Supporting Employee Success is a tool developed by the Canada Life Workplace Strategies for Mental Health (formerly the Great-West Life Centre for Mental Health in the Workplace) that helps inform the development of an effective workplace plan between an employer and an employee who may have a mental health condition or other episodic disability. Institute for Work & Health researchers who are part of the ACED project provided feedback on the tool.
What's included in this tool
Supporting Employee Success is a fillable booklet that provides a step-by-step process to:
assess stressors related to psychological, emotional, cognitive, and physical issues at work
develop strategies that may best support employee success
help maintain a safe and productive workplace.
The entire process focuses on workplace function and issues, and respects confidentiality by not requiring medical information. The conversation is around abilities and strategies that support work success rather than diagnosis or symptoms.
The ideas and strategies included in the booklet are intended to be no-cost or low-cost to implement. Most require a small investment of time and/or a change in communication approach.
Who should use this tool and how
The booklet is designed to be filled out by both the employer and the employee (with help from a trusted advisor such as a doctor, therapist or friend) to develop accommodations or solutions related to workplace function and issues.
For the overall process to be successful, a few basic factors must exist. If they do not, the process may not be helpful, and could even make the situation worse. These factors are:
the workplace is committed to supporting employee success through an ongoing collaborative process
the employee wants to stay at work/return to work and will strive to do the job with necessary supports that are reasonable and acceptable to both the employee and the employer
the job expectations and the needs of the employee, with regard to accomplishing the requirements of the job, are clearly understood.
To use the tool, download the fillable booklet. Use the book on its own or as part of an existing approach to support an employee's accommodation needs.